I said I'd cover more than the mall, and I recently got out and took some photos. For now, we'll take a look at 2 obvious and now unoccupied restaurants, both on Euclid Avenue.
This Pizza Hut eat-in restaurant, located at 26010 Euclid Avenue, has been closed since at least 2003. The building was transferred from a parent company to a limited liability partnership in the summer of 2000. I found a rather
unfavorable review
of this Pizza Hut from July 25, 2001.
Transfer history goes a little something like this: The land was acquired in January 1982 and sold in February 1983 to Ohio based Pizza Hut. In February 1996, the property was sold to the parent company mentioned above. It was transferred, as stated in the previous paragraph, in July 2000.
Like a lot of places, it's still filled with its furniture and sometimes, there are lights on inside. The sign is occasionally lit up on the outside.
The property is in semi-decent condition. The building, of course, is showing its age mostly due to fading paint.
A larger version of the image above and others can be found in the
Pizza Hut
gallery.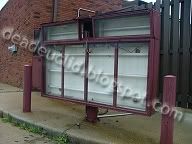 Wendy's restaurant, located at 26193 Euclid Avenue and built in 1985, has been closed for about 2 years now. They were open one day and closed the next. There is a sign on the door advising would-be customers to visit their other Euclid location.
Lights usually remain on in the hallway and back parts of the restaurant. Tables, chairs, and even salt and pepper shakers remain tidy and silent inside. I found a current for lease listing for this building, and ironically enough, in the list of other restaurants nearby, it mentions the Pizza Hut above.
Ownership changed hands in July of 2006. There are about 4 transfers on this building and 3 on the property before this Wendy's building was put up, in 1975, 1982 and finally, 1985. I am not sure if there was a structure on the land before the Wendy's was erected. The saddest part is the property (without Wendy's structure) in 1985 sold for $250,000... This past July (21 years
later
) it sold for $160,000, a staggering $90,000
less
.
For more pictures inside and out, please give the
Wendy's
gallery a look.
I do have more photos and I should be getting those up here within the next couple of days.
Thanks and by all means.. pass it on! Euclid has a wonderful potential and I really hope it is realized soon by people who can and WILL do something about it.