I got a commenter today telling me that
something is going into the Arthur Treachers that closed in January of 2011
.
Well anon, you're right. They've gutted the place and are in the process of adding some decorative bits on the front, the name is of course completely escaping me now. Turrets?
I figured I'd snap some pictures when it's all done but I think it is a
Happy's Pizza going in
.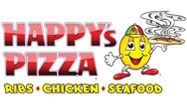 *Warning: Copious amounts of Flash and embedded sound. Click at your own risk.